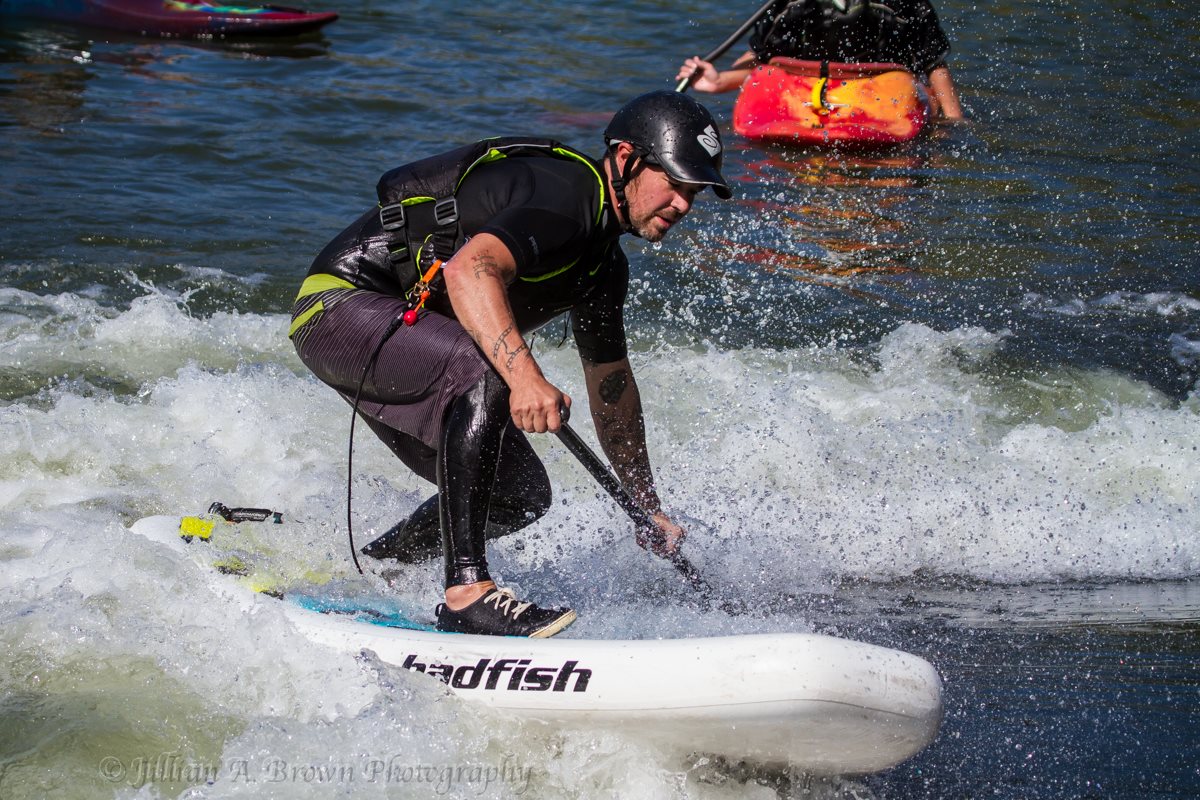 Surf Dayton offers high quality Whitewater SUP lessons from enthusiastic and professional instructors making for a guaranteed fun and memorable experience! Instructors will cater to your skill level whether you are a beginner or have had some experience. You should have basic SUP flatwater skills before taking the whitewater clinic. (minimum of 10 hrs flatwater experience) We will provide everything you need to get started so just bring your smile and high stoke level!
PRIVATE LESSONS: $55 - 90 minutes total (60 min paddling time/30 min prior instruction)

GROUP LESSONS: $35 per person | 3-6 persons | 2hrs (90 min paddling time/30 min prior instruction)
What is Whitewater SUP? It's river running on a paddleboard! Learn to run some fun and safe class 2 rapids as well as other river running skills
What We Provide? For gear, we will provide a SUP board, paddle, leash, life jacket, and helmet. You may bring your own equipment as well. We will offer a fun, informational, and safe surf session to maximum enjoyment and progression. Towards the end of the session, we will shoot video and pics for you to keep and review to see and help your progress and remember the fun you had!

What you will Learn?

RIVER RUNNING BASICS (Flatwater lesson should be done first)
The different paddleboarding stances and foot placements (parrell, staggered, surf, & switch)

Learn different paddle strokes (J stroke and draw stroke)

How to properly and safely swim in river currents

Running Rapids efficiently

ADVANCED
Surfing

Eddying out (both sides)

Ferrying (both sides)

Pivot turns

FAQ
Q: Where will the clinic take place
A: Depending on levels, we will run the Mad River Run through Eastwood metropark. It has 2 nice features to practice river running techniques and easy place to do laps.

Q: Is it safe?
A: With the correct safety equipment, whitewater SUP is very safe. All Life Jackets (PFDS) must be coast guard certified and all our leashes will be connected from board to person. Each has a quick release in the rare case of entanglement. Each instructor is first aid and CPR certified. Both surf features are manmade and a more controlled environment than natural river waves.

Q: Can I bring my own board and gear?
A: Yes, but we recommend inflatable boards that are wider and stable and comfortable for your skill level.
Q: What should I bring?
A: We will provide all necessary equipment but you should bring appropriate swim attire, towel, sunscreen, comfortable water shoes that will not come off (No flip flops and barefoot is not recommended)
Q: Can I cancel my reservation?
A: Yes, cancel anytime. Cancellations made within 12 hrs of the the clinic, will be charged 50% of your lesson fee.

Q: Will I need to sign a waiver?
A: Yes, please read and sign the waiver prior to your lesson. CLICK HERE TO SIGN WAIVER